Dirty
solvent

secrets (but clean solutions are available).

A professional closed-loop BHO extraction system will properly purge solvents. But what happens if the solvent isn't clean to begin with?  We asked the experts at Refined Hydrocarbon Solutions about what we need to know about purity and impurities in solvents.

What do we need to know about clean solvent?

If you use dirty gas, your products' quality will suffer. Some contaminants cannot be removed by filtration or distillation and will contaminate your concentrates. Additionally, if gas cylinders are not properly cleaned, it introduces impurities. Dirty cylinders equal dirty gas, dirty gas equals dirty concentrates. This is why we adopted the slogan "Start Pure, Stay Pure".

What is the purity level of your product?

Our products are listed at 99.5% but the actual purity is between 99.7%-99.8%. Each of our gas shipments comes with a Certificate of Analysis (COA).

What are options on the market?

You can buy cheap Chinese gas, but many imports are loaded with impurities. Look closely at the Certificate of Analysis before you purchase. Some list 99.5% pure gas, but if you look at the analysis, there is greater than 0.5% impurities. If there is a discrepancy in a Certificate of Analysis: how accurate do you think the COA is?

You can also buy American-made pure gas but you must be careful who you buy your gas from. If another product was ever put in that cylinder, the impurities, especially mercaptans or odorants, remain inside the cylinder and leave residues. Some of these residues cannot be cleaned using industry-standard methods. At RHS, we clean every tank if it is dirty, and before we fill we apply a vacuum, then we purge the tank before we fill the tank with another solvent. If this process is not followed, impurities (from the air) wind up in the gas, as well as any impurities that were in the dirty tank, adding to the risk of contaminating concentrates.

Does the tank make a difference?

Yes. At RHS, we use only the highest quality American made DOT approved, Worthington cylinders. Every cylinder is cleaned before it is filled. If a cylinder is too dirty for us to clean, we send it out for reconditioning. If it cannot be reconditioned, we donate them to various people who generally convert them into Chimes. Our valves are Swiss-made Rotarrex diaphragm valves which have no internal gaskets to degrade and permit us to pull vacuums on the cylinders. We manufacture our own dip tubes to ensure that the maximum amount of material can be removed from the tank. Many standard dip tubes in the market will leave quite a few pounds of material in the cylinders.

Do residues show up in products?

We commissioned production of concentrates utilizing our gas and other gases. All gases were distilled once, and we saved the wipe-out rags (a test our clients easily understand).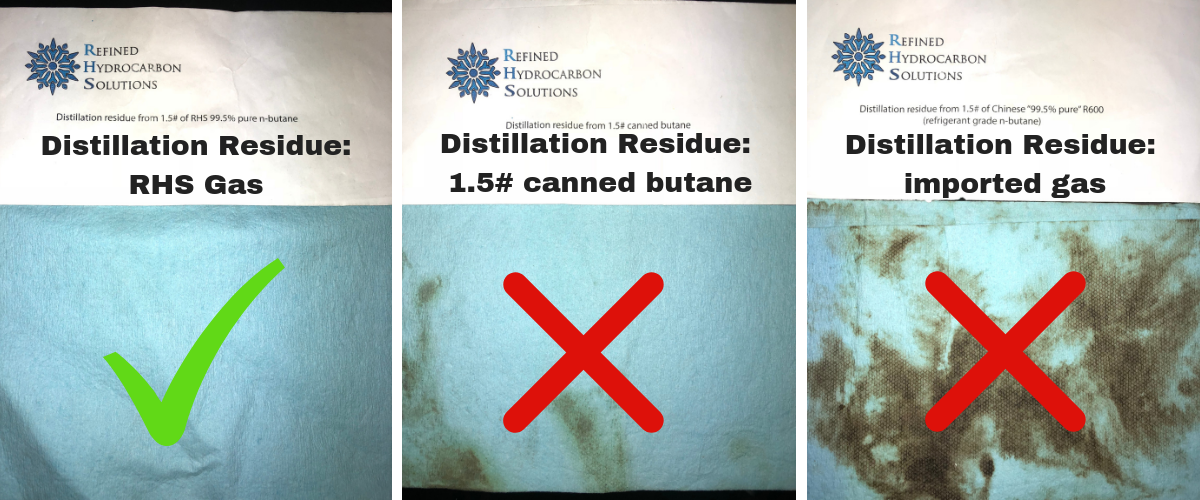 Are dirty gas and dirty cylinders different issues, or the same?  
The two are linked. If you have a clean cylinder and dirty gas, the result is a dirty concentrate, and a dirty cylinder you can never use again. If you have a dirty cylinder and clean gas, you'll have dirty gas, a contaminated concentrate, and the cylinder cannot be used without a thorough cleaning. Many contaminates in a cylinder can never be effectively removed, and some can cause substantial reactions in extraction resulting in a product that cannot be cleaned through filtration and distillation. If you have a clean cylinder and clean gas, you likely bought it from us, so you're good to go!
Why should customers choose RHS?
At RHS, customer service is our top priority. If a customer has a perceived problem with our gas resulting in contaminated concentrates, we will swap the tank, no questions asked. (There will be no down-time in your operations.) We will evaluate if contamination is the result of the gas. If there is no contaminated gas, the customer simply pays for the tank purchased.
We ship over 2,500 tanks a year, and have had only 3 instances of contaminated gas in the past 3 1/2+ years in business – and those customers are still customers to this day. We offer shipping to all 50 States as well as delivery within 30 to 60 miles of any of our three CA locations located in Richmond, Humboldt County, and Long Beach.
For more information, and to order from Refined Hydrocarbon Solutions, please visit: www.rhsgas.com